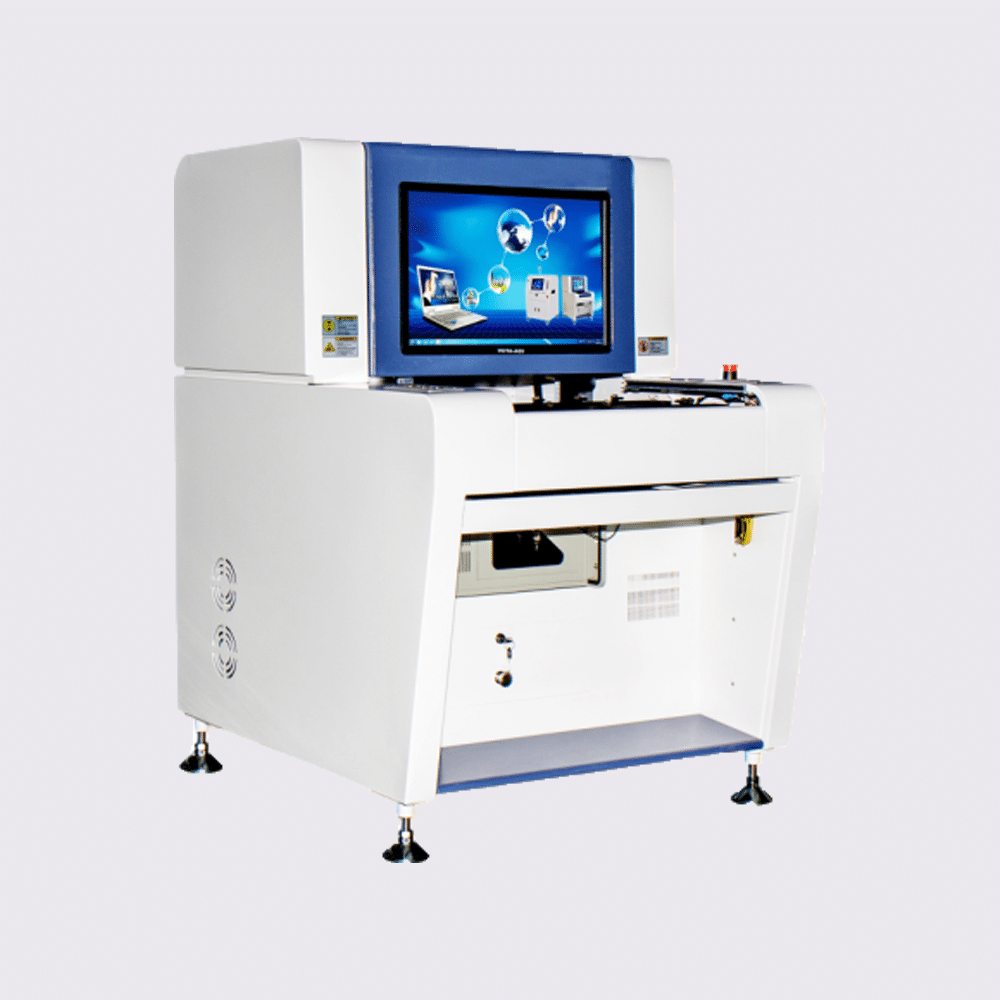 2D AOI Inspection Machine Inpex 200
The new Z series products are more intelligent to meet the industrial 4.0 solution
Can be effectively used in after printing, before reflow, after reflow, wave soldering, and other related non–standard testing.
Intelligent program control can call programs automatically by the camera to identify the barcode or label on the PCB.
Can communicate with other station equipment through the communication module, and seamless docking with MES.
Software testing algorithms can be flexibly and freely combined to improve the control accuracy.
Support large data server mode, can central centralized control by SPC software, one operator control multiple devices.
Intelligent data alarm function.
Parameters
CATEGORY

ITEM

SPECIFICATION

RECOGNITION SYSTEM

INSPECTION

Using multiple algorithms synthetically such as WIDM、Color Image contrast technology、Color extracting technology, similarity, two-value handling technology 、OCR/OCV and so on.

CAMERA

Color CCD camera: 12/15/20 um

LAMP-HOUSE

Ring RGB LED flash lamp-house

IMAGE PROCESSING SPEED

0201 CHIP

<10ms

PER-IMAGE TIME

<170ms

INSPECTION ITEMS

PASTE PRINTIG DEFECTS

Misaligned, overflow, insufficient, pasting open, stain

COMPONENT DEFECTS

Missing, misaligned, skewed, tombstone, billboard, overtumed, reversed polarty, wrong, damaged

SOLDER DEFECTS

Overflow, insufficient, short solder, stain

ANTI STATIC MEASURES

Anti-static electric outlet, anti-static wreath

MECHANISM SYSTEM

PCB SIZE

25×25mm – 330×480mm

PCB THICKNESS

0.5mm – 2.5mm

PCB WARP TOLERANCE

<2mm

COMPONENT CLEARANCE

TOP<28mm,BOT<75mm

MINIMUM SPACE PARTS

0201 chip (15um)

X、YPLATFORM

DRIVER

AC server

ORIENTATION

<15um

MOVING SPEED

700mm/s

SOFT SYSTEM

OPERATION SYSTEM

Microsoft Windows XP Professional

CONTROLLING & RECOGNIZING

CHARACTERISTICS

WIDM, study OK template, automatically set template imaging, identify data and error numerical value

OPERATION

Graphic programming, take along with chip library and get an inspection frame according with chip shape, aureate position, micron adjust, and easy programming

Mark

MARK NUMBERS

0 – 2marks can be chosen

RECOGNISING SPEED

0.5s/pcs

CONTROLLER

COMPUTER

CPU:Intel dual-core, MEMORY:4G, HARDDISK:500G

DISPLAY

23 inch TFT

OTHERS

MACHINE DIMENSIONS (L*W*H)

87cm×104cm×130cm

WEIGHT

~360kg

POWER SUPPLY

AC220V, 10%, single phase 5A 50/60HZ, power consumption 600W
Video