Wave Soldering Machine W-450
Buffer system
Flux supply system
Exhaust fan
Flux spray system
LCD
Pre-heater
Solder pot lifting unit
Dual wave solder pot
Cooling system
Angle adjustment controller
Finger cleaning system
Conveyor system
Description
Parameters
Video
Description
The transportation system adopts section floating structure, effectively prevent guide rail deformation, new titanium alloy double hook finger,non-stick tin, direct linkage buffering, aluminum guide rail, more smooth.
Spray unit integrated module design, through the fast connector connected with the machine; adopts new precision nozzle, which can achievehigh efficiency, uniform atomization coating effect and meet the process requirements of water flux.
The preheating system adopts micro-hot air + infrared heating tube, three-section preheating temperature zone, drawer type modular design,flexible selection of mixed preheating mode, uniform and stable temperature.
Forced air cooling system (Water chiller is optional).
The solder pot system adopts special material for pot, and anti-corrosion treatment for inner surface. (New nozzle fixed mode, easy to remove and assembly; the solder pot temperature control precision is ±2℃; solder pot electric/manual lifting in and out, easy to operate.
Windows 7 operating system, Chinese/English intelligent software, with parameter setting, saving, reuse, remote monitoring functions. Process profile/data automatic storage function, temperature profile test function.
Machine Optionals
Integrated spray fluxer unit(selective spray device is optional)


Drawer type and modular structure preheating zone
Cast iron soldering pot with special anti-corrosion coating
Manual width adjustment with digital display
Solder pot electric/manual lifting in and out

Machine diagram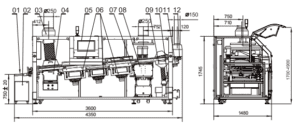 Parameters
Video